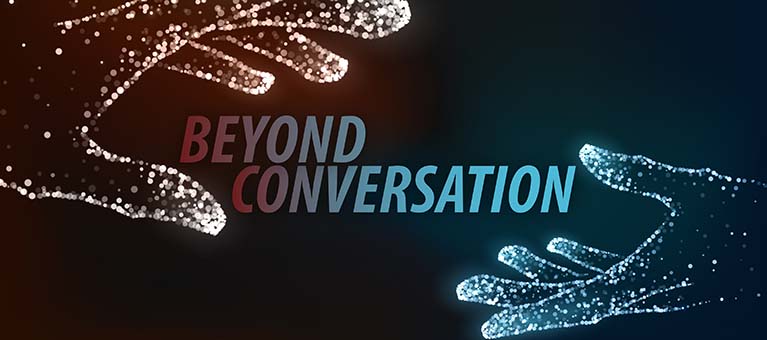 Beyond Conversation Series
"Art should comfort the disturbed and disturb the comfortable."
― Cesar A. Cruz


The Beyond Conversation Series uses the performing arts as a catalyst of change. Each conversation tackles a complex, timely, and socially significant topic. Its goal is to present actionable solutions through respectful and honest discourse using art, discussion, and education. Each conversation includes a panel discussion comprised of experienced educators, artists, activists, and change-makers representing intersectional perspectives. Audiences and panelists lean into tension to share personal stories, knowledge, and perspectives in a solution-orientated dialogue to enact and inspire change beyond conversation.

The Center for Performing Arts created this series during its 25th Anniversary Season (July 2020-December 2021) in the midst of a global pandemic and serious racial justice issues. Although people needed an escape to joy during these difficult times, we acknowledged that pure escape would not honor the unique moment and disruption in history that we were experiencing together. Social inequities continue to deserve attention, which is why the Center presents the Beyond Conversation series in collaboration with community partners and each season.

It is important to the Center to continue the mission of bringing together artists and audiences, creating experiences and memories that instill compassion and transform the world by engaging the community through education, entertainment, performing arts, and dialogue that connect, activate, and inspire.


Past Events: 
Beyond Conversation: RED SUMMER, March 26, 2022 
Beyond Conversation: The Intersection of Opera and Race
Beyond Conversation: Black, Blue and Beyond
Beyond Conversation: Shaping our Narrative