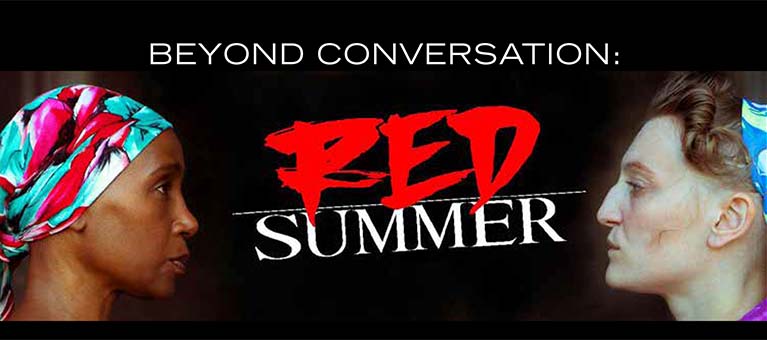 Beyond Conversation:
Red Summer
1 - 2:30 p.m. in the Center for Performing Arts


Premiere Staging Performance Excerpt
Playwright Panel
Q&A

2:30 p.m. in the Hall of Governors

 

Refreshments
Conversations
Resources

Art in Response to Red Summer
View artwork from regional high school students prior to, and after the event.

 

Be the first to SEE excerpts of the premiere staging of RED SUMMER

MEET the playwrights and the artistic team.

ENGAGE with panelists and experts dedicated to social justice

BREAK BREAD and CONNECT with artists, partners, and community neighbors

REFLECT on the Legacy of 1919 and COMMIT to be a part of the solution TOGETHER
About RED SUMMER 
Red Summer takes place during the Chicago race riots of 1919. Two WWI soldiers – one black, one white – return from the battlefields of Europe only to find themselves caught in the violence of a Chicago that is struggling to accommodate the Great Migration, the return of WWI veterans, a downturn in the economy, and long-standing ethnic tensions. Having fought on the same side in The Great War, they are now pitted against each other as their friends, family, and neighbors wage block-by-block warfare and the city's ethnic enclaves rage and burn. Historic figures Mayor "Big Bill" Thompson and Ida B. Wells loom in the background of this historic pivot point. One hundred years later, the same issues still simmer and smolder in every metropolitan area in the country.

Download Curriculum Connection Guide
Save-the-Date! See the premiere production of Red Summer:
Friday, September 16, 2022 at 7:30 p.m.
Saturday, September 17, 2022 at 7:30 p.m.
Sunday, September 18, 2022 at 2 p.m.
Friday, September 23 at 10 a.m.
Saturday, September 24, 2022 at 7:30 p.m.
Sunday, September 25, 2022 at 2 p.m.


Frequently Asked Questions
For more information regarding ticketing information, please visit our dedicated Frequently Asked Questions (FAQ) page.


***Please excuse the appearance of our webpages.

We recently upgraded our ticketing software. In the future you will be able to manage your account online – from changing your contact details and contact preferences to viewing past orders. Please note that when you book tickets online, the system will recognize your email address (if you have purchased tickets under that email address in the past). You will be prompted by email to reset your password. You will also be prompted by email to create a new account, as well as to complete your ticket purchase.

Our ticket purchasing pages are still under construction and may appear without graphics.

We appreciate your patience while we continue to improve our event and customer experience.***