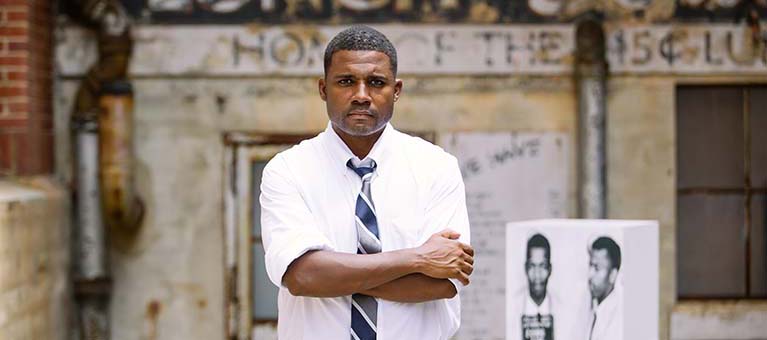 Breach of Peace:
Stories of the Freedom Riders of 1961
A Mike Wiley production
Tuesday, February 22 at 7:30 p.m.

Tickets: $15
Buy Tickets Now!

On May 24, 1961 19-year-old Jean Thompson boarded a Trailways bus in Montgomery, Alabama, with 11 other young Freedom Riders bound for New Orleans – and history. Within three months, approximately 300 other riders took up the mantle to desegregate buses, following the path of the first brave few. Mobs assaulted many. Others were arrested shining a light on a brutal, segregated South. Breach of Peace is based on true accounts of surviving participants of the Freedom Rides as well as many other individuals involved in the early struggle for African-American equality.

This one-man play is a living monument to those remarkable young men and women of various races, religions and backgrounds who rose to face the dangers of fighting for just and equal treatment for all.
Frequently Asked Questions
For more information regarding ticketing information, please visit our dedicated Frequently Asked Questions (FAQ) page.


***Please excuse the appearance of our webpages.

We recently upgraded our ticketing software. In the future you will be able to manage your account online – from changing your contact details and contact preferences to viewing past orders. Please note that when you book tickets online, the system will recognize your email address (if you have purchased tickets under that email address in the past). You will be prompted by email to reset your password. You will also be prompted by email to create a new account, as well as to complete your ticket purchase.

Our ticket purchasing pages are still under construction and will appear without special colors or graphics.

We appreciate your patience while we continue to improve our event and customer experience.***


Recommended for you: