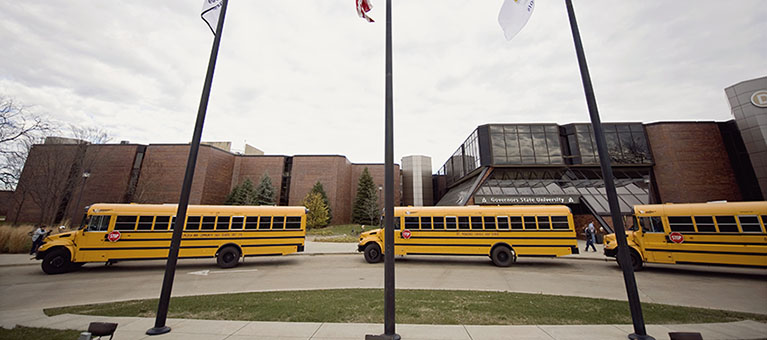 How to order tickets: 
     Contact via Email is best
      We can still be reached by phone 708.235.2222
CURRENT PROCESS:
Your request for a reservation is not complete until the payment policies listed below are met.
Payment Policies
·         Reservations can be made by phone, online, in person at the box office. Many shows are in high demand and sell out. To ensure availability, it is recommended that reservations be made several months in advance.
·         After reservation you will receive a sales agreement.   Return this signed agreement with a non-refundable deposit equal to 25% of your total purchase no later than 2 weeks from the agreement date.
·         Submit your remaining balance and final seat count no later than 30 days prior to the performance date.   Your seat count can be decreased no more than 15% of the original reservation or increased based on availability.  There are no refunds or exchanges on tickets purchased.  Your reservation may be canceled with notice if remaining balance is not received by the due date.
·         Payment can be made with credit card Visa, Master Card, Discover, School Checks, Money Orders, or Cash.
Cancellation Policy
·         To avoid cancellations, we urge teachers before making your reservations to check your school calendar for Test dates, holidays, report card pick-up dates, special activities, professional development days
·         The Center reserves the right to change or cancel performances due to reason beyond our control.  If this occurs, you will be notified and teachers will be invited to transfer their reservation to another performance.
Lunch
Governors State University has limited space for student lunches. You MUST contact us, in advance to reserve a lunch space.
Arrival and Seating
·         Buses should unload in front of the main building D and receive instructions from our theater personnel regarding parking and pick up of students.
·         Seating is on a first come, first served basis. There is no reserved seating.
·         Exceptions are made for groups needing special accommodations due to handicapped, physical disabilities or impairments.  Accessible seating is limited and arrangements should be made in advance.
·         Seating will begin approximately 30 minutes before the performance.
·         Late comers will be seated at the discretion of management so as not to disrupt the performance.