ROSC Councils
The Recovery-Oriented System of Care (ROSC) Councils are a coordinated network of community-based services and supports that is person-centered and builds on the strengths and resiliencies of individuals, families, and communities to achieve recovery and improved health, wellness, and quality of life for those with or at risk of substance use disorders. The central focus of a ROSC is to create an infrastructure, or "system of care", with the resources to effectively address the full range of substance use problems within communities. The goals of the Illinois ROSC include:
Building a culture that builds and nurtures recovery
Building capacity and infrastructure to support a recovery-oriented system of care
Developing commitment to implement and sustain a recovery-oriented system of care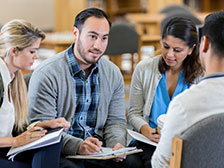 Logan Mason ROSC Council

Serving Logan and Mason Counties
Chestnut Health Systems

448 Wylie Drive
Rachael Kapper, Prevention Coordinator

314-614-2176
Email Rachael Kapper
 For ROSC Coordinators Only:
ROSC Document Toolbox 
This project is supported in part by the Illinois Department of Human Services Division of Substance Use Prevention and Recovery, as part of the Substance Abuse Prevention and Treatment Block Grant award (3B08TI010018-18).