Illinois Recovery-Oriented System of Care (ROSC) Councils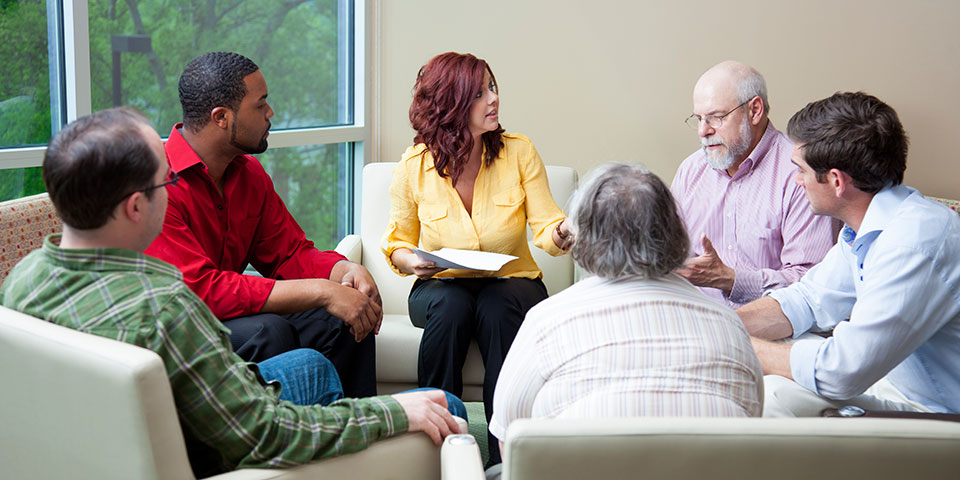 In 2018, IDHS/SUPR changed its name from the Division of Alcoholism and Substance Abuse (DASA) to the Division of Substance Use Prevention and Recovery (SUPR). In addition to removing stigmatizing language (substance abuse) from the Division's name, it supports the commitment of the Division for prevention of, and recovery from, substance use disorders. SUPR has made progress in reorienting the system from focusing solely on the traditional acute care approach to a chronic care approach. Shifting to a chronic care approach requires the entire system i.e., prevention, intervention, treatment and recovery management to embrace a recovery-oriented approach. Long term recovery from substance use disorders is dependent upon a continued connection to care and the delivery of services that are not only responsive to individuals' use of alcohol and other drugs, but their co-occurring trauma effects, mental health, physical health and ongoing recovery related concerns as well.
ROSC
ROSC is a coordinated network of community-based services and supports that is person-centered and builds on the strengths and resiliencies of individuals, families, and communities to achieve recovery and improved health, wellness, and quality of life for those with or at risk of substance use disorders. The central focus of a ROSC is to create an infrastructure, or "system of care", with the resources to effectively address the full range of substance use problems within communities. The goals of the Illinois ROSC include:   
Building a culture that builds and nurtures recovery
Building capacity and infrastructure to support a recovery-oriented system of care
Developing commitment to implement and sustain a recovery-oriented system of care 
ROSC Councils
  In addition to developing a statewide ROSC, SUPR has implemented local ROSC Councils in eight communities through its Recovery-Oriented Systems of Care - Illinois Statewide Network (ROSC-ISN) program. This program established networked, geographically distributed ROSC Councils that will assist communities with building local recovery-oriented systems of care and that can network with the statewide ROSC. ROSC Councils build collaborations in their communities that connect everyone who can support recovery. This may include local hospitals, primary care, mental health, law enforcement, local business owners, local government representatives and policy makers, persons with lived experience and SUD intervention, treatment, prevention and recovery support service providers.
The ROSC-ISN project was designed to support each ROSC Council to set goals and objectives to develop and grow a ROSC in their community, specific to the needs of the community as defined in a needs assessment and a readiness assessment. Each ROSC Council has a "lead agency", an organization that is providing leadership for the Council and is supported by IDHS/SUPR. These funds support lead agency staff to organize the logistics of ROSC Council meetings, stipends to ensure the participation of persons with lived experience, and training costs. The size of each community is defined by the local ROSC Council.
The Lead Agencies of the ROSC Councils currently participate in a Monthly Learning Collaborative call to develop linkages with ROSC Councils throughout the state in order to develop a consistent and collaborative approach to a statewide ROSC. The Lead Agency will also participate in quarterly in-person statewide ROSC meetings in the Chicago area.
  ROSC Councils – Lead Agencies and Communities Served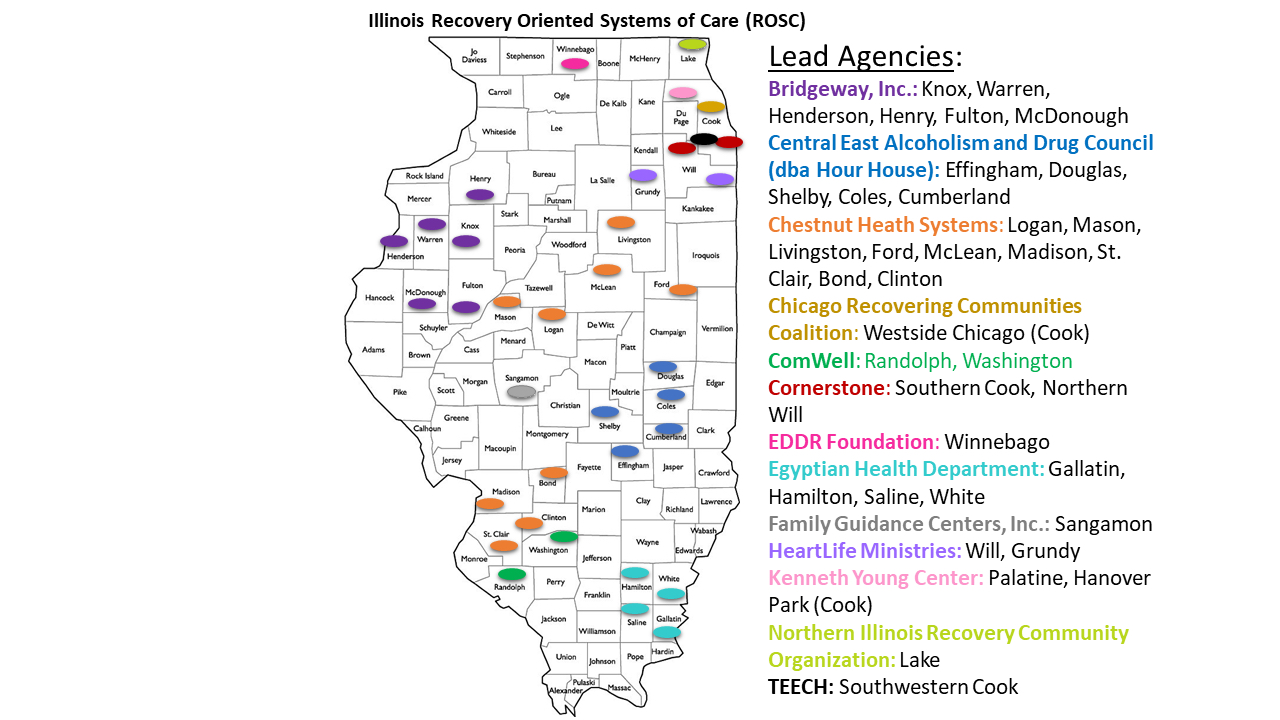 Contact
For more information about ROSC Councils, please contact:

Mike Deschamps, MBA, LCSW
Administrator of Infrastructure Planning and Development
Illinois Department of Human Services
Substance Use Prevention and Recovery
600 East Ash Street
Springfield, IL 
 
Email Mike Deschamps


What is Recovery?
    •    A process of change through which individuals improve their health and wellness, live a self-directed life, and strive to reach their full potential.
    •    Recovery from alcohol and drug problems is a process of change through which an individual achieves abstinence and improved health, wellness, and quality of life.

Recovery-Oriented Systems of Care
Recovery-Oriented Systems of Care (ROSC) are designed to support individuals seeking to overcome substance use disorders across the lifespan. They are comprehensive, providing services for individuals before, during and after treatment.
Features of Recovery-Oriented Systems of Care
Recovery-Oriented Systems of Care (ROSC) differ from the traditional approach to addictions treatment, which is often short-term.
Other aspects of this system that set it apart:
    •    Places a greater emphasis on recovery than treatment;
    •    Views treatment as important, and as the bridge to recovery;
    •    Comprehensive;
    •    Long-term;
    •    Individualized;
    •    Strength-based;
    •    Gender-sensitive, culturally competent, and able to address trauma;
    •    Provides assertive outreach in communities. Over the course of the past 50    years, most addiction services have been provided within facilities;
    •    Forms partnerships to help clients remain sober in their natural environments. These partnerships are often between treatment providers, faith-based communities, secular communities, peers in recovery, indigenous healers in a diversity of communities, and recovery coaches;
    •    Emphasizes multiple pathways to long-term recovery.

Recovery Coach Training
The Illinois Department of Human Services' Substance Use Prevention and Recovery (SUPR) and GSU's College of Health and Human Services' Addiction Studies and Behavioral Health Program present a subsidized 40-hour training program focused on recovery coaching/mentoring as part of a recovery-oriented system of care for individuals and families dealing with alcohol and/or substance abuse. The Recovery Coaching Training Program meets the Illinois foundational knowledge requirements for certification, and is open to all Illinois residents.
For information about certifications and additional training, go to our Career Pathway page.
This project is supported in part by the Illinois Department of Human Services Division of Substance Use Prevention and Recovery, as part of the Substance Abuse Prevention and Treatment Block Grant award (3B08TI010018-18).