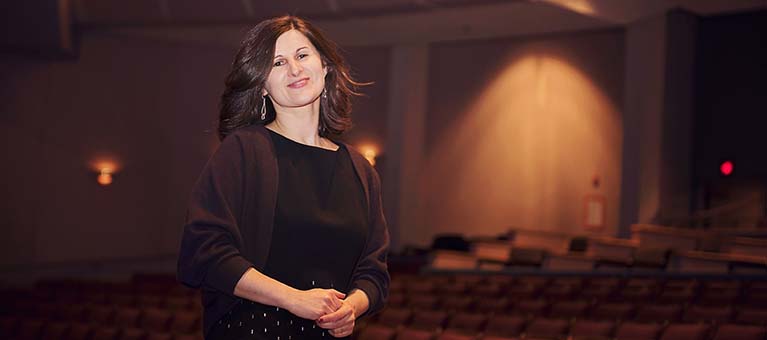 Welcome to the Center for Performing Arts
"Art should comfort the disturbed and disturb the comfortable."
― Cesar A. Cruz
Dear Friends:
I cannot wait to feel it again: the buzz of the crowd, the fading murmurs
as the house lights dim and the stage lights rise, as our shared journey on
stage commences.
Fleeting moments of human connection that can never be replicated, that
live in our collective memories like a precious keepsake.
Artists and audiences uniting as a shared community. Setting our daily
worries and differences aside to share, reflect, and feel: united by gasps,
laughter and applause – a synchronous heartbeat.
Sincerely,
Lana Rogachevskaya
Executive Director, Center for Performing Arts
Welcome to Governors State University's 2021-22 Cultural Season. This season we celebrate the 25th anniversary of the Center for Performing Arts. For 25 seasons, the Center has provided world-class entertainment and educational enlightenment to the Chicago Southland region, making Governors State University THE cultural destination of the Chicago Southland.

This season features international, critically-acclaimed acts such as Momix that elevate the human form to heights of inventive artistry; socially relevant dramas such as Mike Wiley's Breach of Peace: Stories of the Freedom Riders of 1961; burgeoning local talent from our Theatre and Performance Studies students; and joyous concerts from Grammy-Award winning artist Karen Clark Sheard and Emmy-Award winning artist Orbert Davis.

GSU's diverse cultural events are curated to expand minds and imaginations: from multigenerational events for the entire family, to master classes taught by leading artists in their fields, to the fourth Chicago Southland International Film Festival. We invite you to join us for what will be a transformative season of art, music, dance, and storytelling. Only through the arts can we gain a complete and deeper understanding of our history, our community, and ourselves.

Join me, won't you?

Sincerely,

Cheryl Green, Ph.D.
President, Governors State University